Synopsis
A letter from Peter Townsend spurs Margaret to make a bold proposal. Elizabeth has good news that causes complications for Margaret.[1]
Episode Notes
Historical Events
Historical Figures
Historical Notes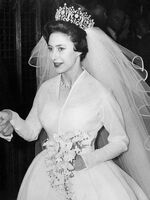 Margaret's silk organza wedding gown was designed by Norman Hartnell, who also designed the Queen's wedding gown. The gown was designed to be simple and sophisticated, with a minimum of beading or other decoration. With it, she wore the Poltimore tiara, which was purchased (it is unclear by whom) for the wedding, and a diamond necklace which originally belonged to Queen Mary, her grandmother.
Trivia
Music
"The Wonder of You", performed by Ronnie Hilton (1959)
Gallery
References
Ad blocker interference detected!
Wikia is a free-to-use site that makes money from advertising. We have a modified experience for viewers using ad blockers

Wikia is not accessible if you've made further modifications. Remove the custom ad blocker rule(s) and the page will load as expected.