The Crown: Season 2 - Official Trailer
Season 2 of the Netflix drama The Crown premieres 8 December 2017. It will be written by creator Peter Morgan,[1] and covers the period from 1955 to 1964.
About
Set at the cusp of the "swinging 60s", Season 2 picks up shortly after the events at the end of Season 1, with Anthony Eden's tenure as Prime Minister (April 6, 1955 – January 10, 1957) and his handling of the Suez crisis.[1]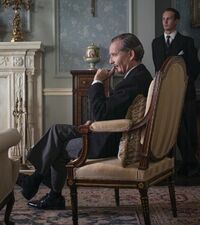 The season will continue to cover the tenure of Prime Minister Harold Macmillan (played by Anton Lesser) from January 10, 1957 – October 19, 1963,[2] and will feature a state visit by President John F. Kennedy (Michael C. Hall) and First Lady Jaqueline Kennedy (Jody Balfour); among their entourage will be Kennedy's brother Bobby (Julian Ovenden).[3] The brief tenure of Prime Minister Alec Douglas-Home (1963-64), then the beginning of Harold Wilson's (1964) first term as Prime Minister will also occur during the season. Having stepped down as Prime Minister, Winston Churchill (John Lithgow) will not appear in Season 2.
Season 2 will delve deeper into Philip, Duke of Edinburgh's life and his relationship with Prince Charles, and will include the birth of Prince Andrew (February 1960) and possibly Price Edward (March 1964).[4] Matthew Goode will join the cast as society photographer Antony Armstrong-Jones, who will marry Princess Margaret.[5] The season will explore the beginning of their bohemian lifestyle, as well as the birth of their children.
Cast
The Royal Family
Extended Family
Greg Wise as Lord Louis Mountbatten
Matthew Goode as Anthony Armstrong-Jones
The Royal Household
Pip Torrens as Tommy Lascelles, King George VI's and later the Queen's private secretary
Harry Hadden-Paton as Martin Charteris, Princess Elizabeth and the Duke of Edinburgh's private secretary
Will Keen as Michael Adeane, the Queen's second private secretary
Patrick Drury as the Lord Chamberlain
Patrick Ryecart as Bernard, 16th Duke of Norfolk and the Earl Marshal
Martin Bishop as George VI's valet
Lizzy McInnerny as Bobo McDonald's the Queen's dresser
Government
The Conservative (Tory) Party
Jeremy Northam as Anthony Eden, the Prime Minister (April 6, 1955 – January 10, 1957)
Anton Lesser as Harold MacMillan, the Prime Minister (January 10, 1957 - October 19, 1963)
Nicholas Rowe as Jock Colville, Churchill's Private Secretary
Clive Francis as Lord Salisbury
? as John Profumo, the center of The Profumo Affair
The Labour Party
Simon Chandler as Clement Attlee
Episodes
References
↑ 1.0 1.1 'The Crown' Creator Discusses Season 1 and Why He's Not Committing to a Third Season (Yet) (November 2016)
↑ The Crown season two on Netflix: release date, cast, story and everything you need to know (August 2017)