Season 2 of the Netflix drama The Crown will be written by creator Peter Morgan,[1] and premieres 8 December 2017. It will cover the period from 1955 to 1964.
About
Picking up from the end of Season 1, Season 2 will begin with Anthony Eden's tenure as Prime Minister (April 6, 1955 – January 10, 1957) and his handling of the Suez crisis.[1]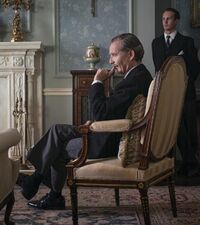 The season will continue to cover the tenure of Prime Minister
Harold Macmillan
(played by Anton Lesser) from January 10, 1957 – October 19, 1963,
[2]
and will feature a state visit by President John F. Kennedy (Michael C. Hall) and First Lady Jaqueline Kennedy (Jody Balfour); among their entourage will be Kennedy's brother Bobby (Julian Ovenden).
[3]
The brief tenure of Prime Minister
Alec Douglas-Home
(1963-64), then the beginning of
Harold Wilson
's (1964) first term as Prime Minister will also occur during the season. Having stepped down as Prime Minister,
Winston Churchill
(John Lithgow) will not appear in Season 2.
Season 2 will delve deeper into Philip, Duke of Edinburgh's life and his relationship with Prince Charles, and will include the birth of Prince Andrew (February 1960) and possibly Price Edward (March 1964).[4] Matthew Goode will join the cast as society photographer Antony Armstrong-Jones, who will marry Princess Margaret.[5] The season will explore the beginning of their bohemian lifestyle, as well as the birth of their children.
Episodes
#
Image
Title
Writer(s)
Director
201
201
Peter Morgan
202
202
Peter Morgan
203
203
Peter Morgan
204
204
Peter Morgan
205
205
Peter Morgan
206
206
Peter Morgan
207
207
Peter Morgan
208
208
Peter Morgan
209
209
Peter Morgan
210
210
Peter Morgan
References
↑ https://www.theguardian.com/tv-and-radio/ng-interactive/2016/nov/01/filming-the-crown-on-the-set-of-the-netflix-blockbuster-in-pictures
↑ http://deadline.com/2017/02/the-crown-cast-michael-c-hall-jodi-balfour-kennedy-matthew-goode-netflix-1201906364
↑ http://www.digitalspy.com/tv/the-crown/feature/a820855/the-crown-season-two-premiere-release-date-air-date-on-netflix/
Ad blocker interference detected!
Wikia is a free-to-use site that makes money from advertising. We have a modified experience for viewers using ad blockers

Wikia is not accessible if you've made further modifications. Remove the custom ad blocker rule(s) and the page will load as expected.